Visit the Represent Exhibition at Moseley Road Baths this October
The People's Heritage Co-operative are delighted to welcome you to our new exhibition which features banners created by community participants alongside stories of how people have historically made change in their communities, in our city and farther afield.
Where? – Gala Pool, Moseley Road Baths, Balsall Heath B12 9BX
When? – 7th – 31st October during regular pool opening hours. Please see the Moseley Road Baths website for details, but please note that sessions are subject to change.
Tell me more – Contact Rachel on rachel@peoplesheritagecoop.uk to find out more.
Represent delves into the period following the Representation of the People Act in 1918, exploring issues around political representation and organisation and parallels today.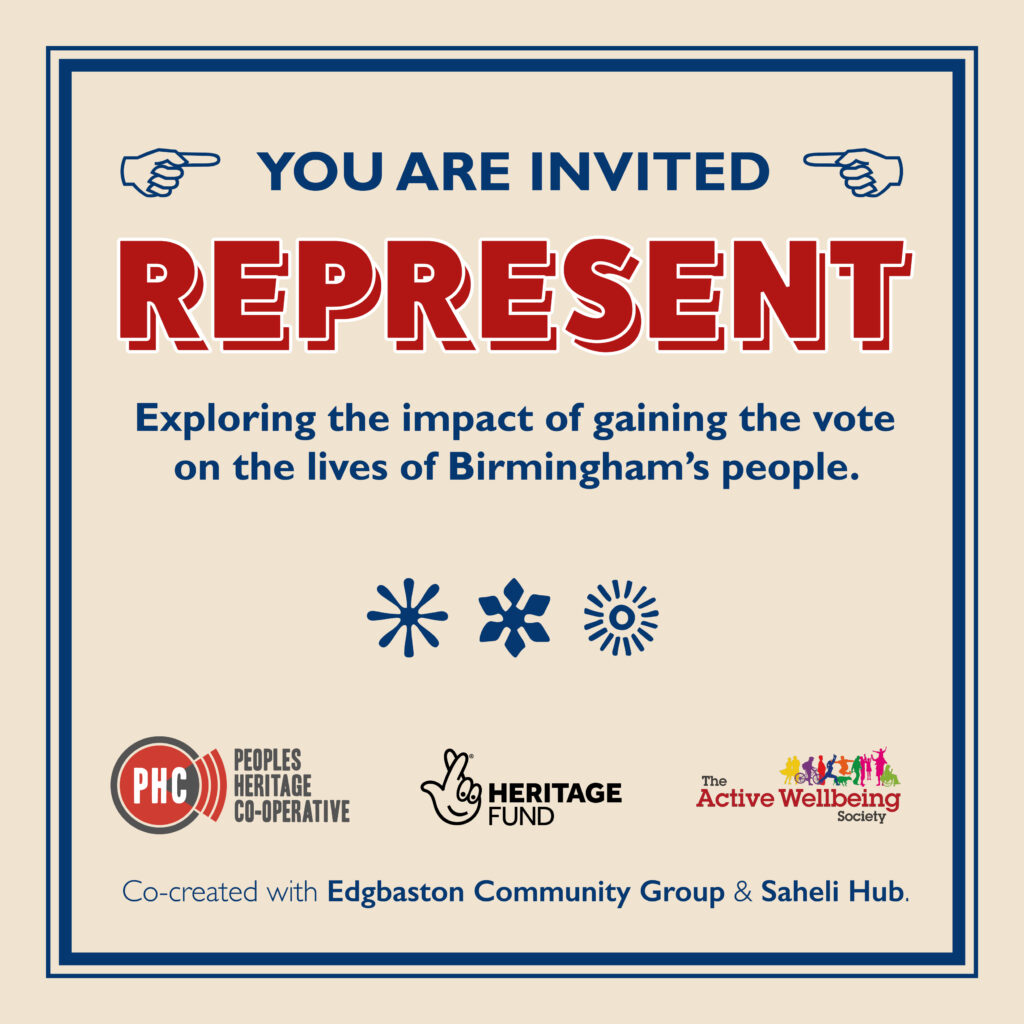 The exhibition will be available to view 7th-31st October in the stunning Gala Pool in Moseley Road Baths., including during the Balsall Heath 'Second Saturday' on 9th October and during the Half Term holidays. Opening times are subject to Moseley Road Baths opening times.
Represent is a National Lottery Heritage Fund supported project, examining questions around political representation and organisation through archival research, co-learning and creative responses with community participants. It is supported by The Active Wellbeing Society and the Library of Birmingham's Archives and Collections service. Follow our journey so far at www.representpeople.co.uk.
Join the conversation!
We hope that this project sparks conversations and ideas about political organisation and representation a century ago and in the present day. Share your thoughts with us on Social Media by using the hashtag #RepresentBrum.
Covid Safety and access
We will be complying with Covid safety measures as much as possible. We request that visitors use hand sanitiser on arrival, wear masks in confined spaces (i.e. entering and leaving the building) and respect others' space and comfort by maintaining a safe distance from others not in their group. The Gala Pool is a spacious and well ventilated space.
The Gala Pool is accessed by steps leading into the pool, therefore we regret that it is not fully accessible for people with limited mobility.