Moseley Road Baths Crowdfunder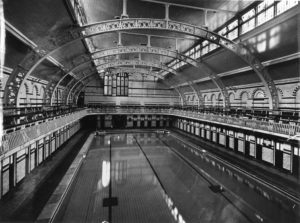 Moseley Road Baths is one of the nation's most significant heritage swimming pools – it is the oldest Grade II* Listed baths still open for public swimming. It's also much loved and well used as our community pool, where last year nearly 80,000 people swam.

Identified for closure by Birmingham City Council, a loud and vocal community campaign – with the support of national and international heritage organisations – led to a reprieve. The newly formed Moseley Road Baths Community Interest Company (MRB CIC) now has 9 months to develop a workable model for swimming, enabling it to take over operational responsibility for water activity from April 2018.
As part of this, they have launched a Crowdfunder. Their appeal target is to raise £13,552 to train 8 volunteers in lifeguarding, swim teaching as well as in customer service skills, health and safety, etc. Each volunteer must be trained so they can offer safe swimming on every occasion that the pool is open. So far, over £12,000 has been raised, but with only 8 days remaining at the time of writing, there is still a way to go!
To read more about the Crowdfunder and if you would like to make a contribution, head to the Crowdfunder website and help Moseley Road Baths reach this important target!