A 'Cloak of Power' for Ophelia
During Hear Here workshops this year we explored representations of Ophelia from Shakespeare's Hamlet in The Shakespeare Memorial Library. We were interested in how she made herself heard, and how women have fought to be heard. From this we developed our Cloak covered in the many stories of women.
By sharing stories and looking further at women's stories in Birmingham Archive Collections we found out about women who fought for their voices to be heard, including Suffrage stories. These included the slashing of a painting by Bertha Ryland, the burning of Northfield Lbrary and the momentous rallies around the visit of Prime Minister Asquith. Birmingham also saw the first women suffragettes in the UK force fed at Winson Green Prison.
Our twelve metre 'Cloak of Power', fashioned from the stories and artwork of those stories and the stories of the women we worked with, will be revealed on Saturday 25th November 2pm at the Library of Birmingham. We chose a cloak to dress Ophelia after reviewing Archive film footage of 'The Pageant of Great Women' in 1909, arranged by Cicely Hamilton and the 'Birmingham Civic Pageant' in 1938, one of the largest pageants ever held in Britain with Gwen Lally as Pageant Master.
The 'Tree of Life' became a key theme during workshops, initially raised by a participant who later became a volunteer on the project and then a support artist. It has featured in artwork and forms a central motif for our Cloak.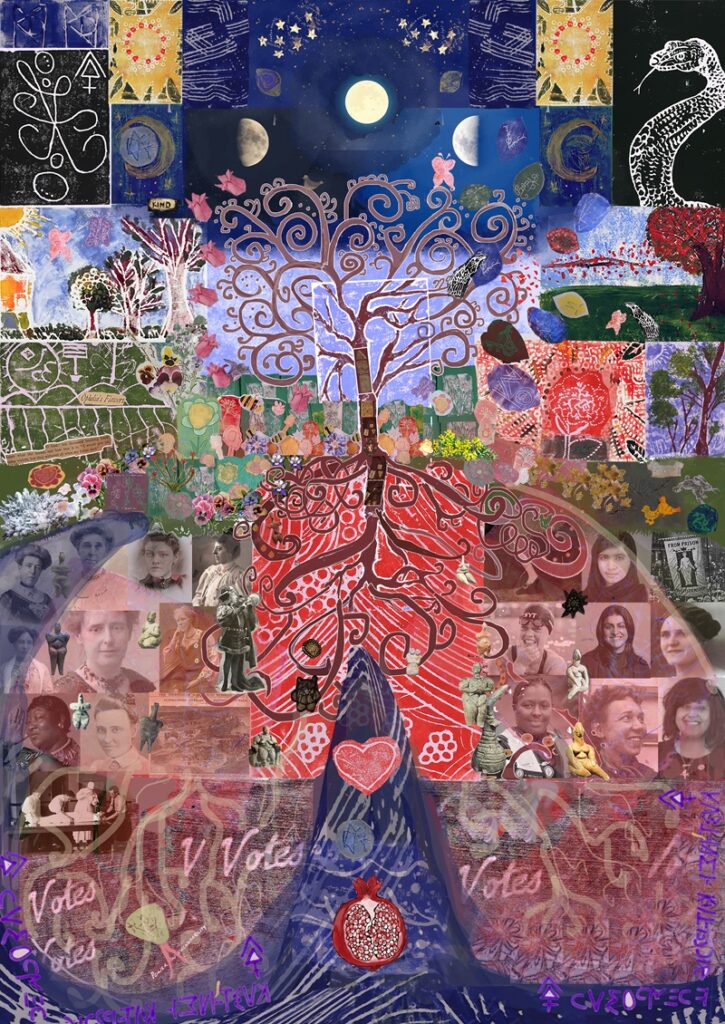 Hear Here Her Story – On Saturday 25th November, 2-4pm, at the Library of Birmingham, we will mark 'Elimination of Violence against Women Day'. Women from across Birmingham and Solihull have created 'Ophelia's Cloak of Power', to be revealed and form the centrepiece of a celebratory performace including dance, music, stories and artwork created by women during a series of workshops over the last year.