What can little ones do in War time?
It is rare to hear the voice of children in any century.  The Birmingham Weekly Mercury's children's competition in 1915 on the theme 'What can the Little Ones do in War Time?', offers an insight to life in Birmingham during the war through children's eyes.  First prize of half a crown was awarded to Irene Harrison (age 13) from 145 Ladypool Road, Sparkbrook, one of six children from a widowed mother.
Her winning entry was published on 20th November (
Sian Roberts p.74
):
"Certainly we children can help in this Great War. Now what can we small nobodies do? First, Denial is a great sacrifice, and it would bring a smile to many a soldier's face if he had a cigarette that was bought with our pennies that were saved each week instead of being squandered at the sweet shops. 'Tommy' would treasure a scarf, a pair of gloves, knitted pair of socks or a helmet; he would think more of them if bought or knitted with our small hands, for every soldier has not a sweetheart, wife or mother; lots of them, given the title of 'The Lonely Soldier', never receive parcels from relations like their chums do when away from their home; the simple reason is because they have no friends or relations. Would not it be nice to feel that we have got a friend who is a big red-faced soldier?" See more Children's responses.
Children did contribute directly by making and sending messages and goods for soldiers.  In Birmingham they also played a role in lifting morale in our hospitals.  Children also took significant roles in their homes, caring for younger siblings or housework while both parents may be working or fighting. Children were used more in the workplace more widely and there were notable increases in 'delinquency' in Birmingham leading to challenges in Youth service and child care provision provision.  Birmingham Children of War project focuses on uncovering children' s experience of war from a Birmingham perspective.
It is also worth noting Recruiting Officers were paid two shillings and sixpence for every recruit, and in 1915 the majority of the
250,000 underage British soldiers
– some as young as 12 – were recruited to fight on the front.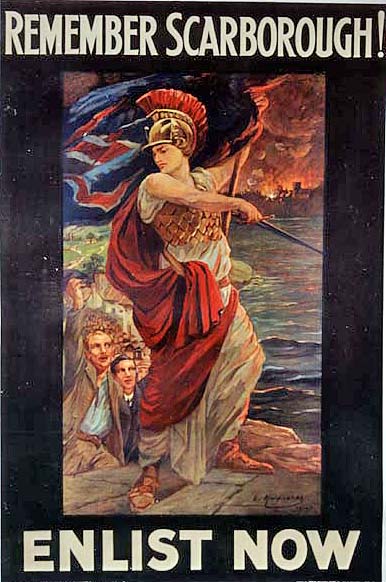 Perhaps the biggest contribution children made was not in what they did or said, but in how they were used in propaganda to encourage enlistment, most notably in the use of 'The baby killers of Scarborough', but also through civilian casualties in Zeppelin raids including those in the West Midlands.
During the First World War, an enormous number of British children became 'temporary' army children when their civilian fathers joined the British Army as volunteers or conscripts. The effects both of living through the period at home, and of having a soldier–father affected their lives – both psychologically, as well as practically – as it can do now.